with Pray as you go
Prepare for Christmas and deepen your experience of the Advent season this year with Arts & Faith: Advent. Each week there is  a video commentary about a work of art inspired by the Sunday Scriptures. Use these videos to take a new look at this season of hope and preparation through the lens of sacred art.
Cycle B: Advent 2017 – praying with art
Advent Weekly Video Reflections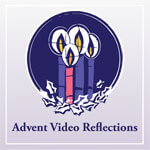 Enjoy these video reflections to help you in your spiritual journey.
Week One: Love Is Coming
Week Two: Waiting
Week Three: How Does Hope Shape Us?
Week Four: Mary Receiving Jesus into Her Arms
 
More Advent Resources
The Jesse Tree
The Jesse Tree dates back to the middle ages and came from Europe. Even some ancient cathedrals have Jesse Tree designs in their stained glass windows. The "tree" is usually a branch or sapling and is decorated with various symbols that remind us of the purpose and promises of God from Creation to the Birth of Jesus Christ.

Sacred Advent
Embrace the Advent season as a sacred space from the ease of your e-mail inbox. Each day of Sacred Advent invites you to a step-by-step way of praying with a Scripture reading and related points of reflection. The messages also include suggestions for further exploration of Advent themes. Sign up to receive the daily messages via e-mail.
Loyola Press Online Advent Calendar
Use an online Advent calendar featuring daily reflections from several sites. Also find other Advent resources from Loyola Press.
God With Us: An Advent Retreat with the O Antiphons
The reflective focus will be on the 'O' Antiphons traditionally used in the anticipation of Jesus' coming to dwell among us. You might like to think of them as seven ways of expressing Jesus and they are often known for being a sung response to introduce the Magnificat at evening prayer in the final days of Advent. Their origin can be traced back to the prophecies of Isaiah, who tells of the coming Messiah.

Praying Advent
Creighton University's Online Ministries offers a selection of materials to help people prayerfully enter into Advent, from short prayers to longer reflections and audio retreats.
Advent Examen
By Laurie Marshanke
Marshanke invites seasonal reflection through the lens of the Examen.
Contemplating the Incarnation
Contemplation on the Incarnation Part One: The Trinity Looks Down from Heaven
By Daniel Ruff, SJ
The Contemplation on the Incarnation begins with imagining the Trinity looking down from heaven and responding with the Incarnation. Ruff introduces readers to this aspect of the Spiritual Exercises.
Contemplation on the Incarnation Part Two: Mary's Human Response
By Daniel Ruff, SJ
The second part of the Contemplation on the Incarnation explores the Annunciation and Mary's response.
Mary at Her Annunciation as a Model for Growing in the Virtue of Faith
By Gerald M. Fagin, SJ
In contemplating the Annunciation, we see Mary as a model of faith and are called to trust and openness ourselves.