14th Sunday of Ordinary Time
5th July
Mass Readings
Reading 1 – Zechariah 9:9-10
Psalm – Psalm 145:1-14
Reading 2 – Romans 8:9, 11-13
Gospel – Matthew 11:25-30
When one looks at the hardships that so many of the Church's saints and martyrs have faced one might be forgiven for thinking that the Lord is lying through his back-teeth when he says "Come to me all you who labour and are overburdened and I will give you rest. Shoulder my yoke … and you will find rest for your souls."
Following the Lord is not easy and his burden does not appear to be light. As Christians we are called to offer our lives with the Lord to the Father. That is why in the Mass we pray "through him, and with him, and in him". This means that the burden we take up by uniting the small sacrifices and the larger hardships of our life with the Lord is nothing other than the cross of Calvary.
There is a lovely story told about Sir Christopher Wren, when St. Paul's Cathedral was being built. The great architect stopped by at the building-site and asked three different stonemasons what they were doing. The first said "I am cutting stone", the second "I am doing a job to earn a living", and the third said "I am helping Sir Christopher Wren build this great cathedral'" It is sometimes helpful when we are enduring some hardship to keep that perspective. If we unite our suffering with the Lord, we are not just building a Cathedral, we are sharing in Christ's work of redeeming the world. Nonetheless, it still seems a heavy burden.
The real truth is that when we offer our suffering and when we shoulder the Lord's yoke, we can be certain that we are close to the Lord. The lightness of the yoke is not a quality of the yoke, it is the impact of being close to the Lord. And we are never closer to the Lord than when we choose to be with him at Calvary.
If we choose this then we know his mother will be there with us praying for us, and we know we will hear that promise of heaven "This day you will be with me in  aradise." Where else could we possibly go in order to find rest for our souls?
Saints Peter and Paul
28th June
Mass Readings
Reading 1 – 2 Kings 4:8-11, 14-16A
Psalm – Psalm 89:2-19
Reading 2 – Romans 6:3-4, 8-11
Gospel – Matthew 10:37-42
We celebrate this Sunday the Solemnity (ask Sr. Karin what the difference between a Feast and a Solemnity is. She knows much more than me!) of Ss. Peter and Paul. Their earthly lives culminate in their martyrdoms in Rome: Paul by the sword, Peter crucified upside down, so the pious tradition goes.
One way of understanding this is that the event of God reconciling us to Himself has now reached the very heart of
darkness. Rome was the centre of an oppressive empire.
Immensely rich and equally corrupt, it was a city that, for example, revelled in the horrific blood sports of the
amphitheatres, and whose culture embraced slavery and exalted merciless, bloodthirsty, martial values: the will to power!
But when, in that city, Peter and Paul shed their blood in imitation of their master, it meant God's transforming salvation had travelled from the Judea, a far-flung, back-water province, and had reached the heart, the epicentre, of that world.
Christ's salvation cannot remain on the periphery of our lives; it must be internalised and touch our hearts and become the centre of gravity in the decisions we make about how we lead our lives.
In this way we imitate Peter and Paul. They did not live to see the defining impact of their martyrdom. But we know there are now churches dedicated in our own Archdiocese to the fisherman of Galilee and to the tent-maker of Tarsus, and we live beyond the bounds of Hadrian's Wall!
We may not see how our lives touch those around us but holiness, dare I say it, is contagious.
12th Week of Ordinary Time
21st June
Mass Readings
Reading 1 – Jeremiah 20:10-13
Psalm – Psalm 69:8-35
Reading 2 – Romans 5:12-15
Gospel – Matthew 10:26-33
Fr Douglas'  reflection
I have found almost without fail that the Gospels given to us by the liturgical cycle during lock-down have been full of irony.
This Sunday, just at the point when most of us are itching for a haircut, the Lord tells us "Why, every hair on your head is counted." Certainly, I think, my Guardian Angel is sniggering up his sleeve!  
But the Lord goes on "So there is no need to be afraid", His talk of the hairs on our head being counted is a metaphor for how well God knows us, how our every struggle, triumph or failure is present to God. 
There are two ways of taking this metaphor which I think are equally but differently misleading. We can take from it a notion of God who is always with us no matter what we do (which is true!), but then turn it into a sort of soppy spiritual comfort blanket: it doesn't matter what I do because God is always with me. Or we can react to God's closeness as if he were some sort of Orwellian Big Brother, constantly watching us and waiting for us to slip up  so that he can punish and humiliate us. 
Rather than 'watching' us it is truer to say that God is constantly 'watching over' us. He is neither a comfort blanket nor Big Brother. He is simply our dearest and best friend who is always faithful to us.  
If you are blessed enough to have even one true friend you will know that such a friend will be with you at your best, with you when you are fair to middling, and will not walk away from you when you are at your worst. 
But a true friend is neither a flatter nor a sycophant. A true friend will be with you at your worst but will also know when to challenge you and when to push you to be better.
St. Robert Southwell, SJ, who gave his life for Christ, said this of the Lord:
"First friend he was, best friend he is, all times will find Him true." 
Most Holy Body and Blood of Christ
14th June
Mass Readings
Reading 1 – Deuteronomy 8:2-3, 14B-16A
Psalm – Psalm 147:12-20
Reading 2 – 1 Cor. 10:16-17
Gospel – John 6:51-58
Reflection
This Sunday the Church celebrates the feast of the Body and Blood of Christ, traditionally known by its Latin name 'Corpus Christi'. It is an opportunity to reflect on the fact that Christ gave us his body and blood as spiritual sustenance. The First Reading reminds us that God fed his people with manna and water as he brought them out of Egypt. Their faithful God did not abandon them.
The Psalm continues on the same theme. God provided the finest food, gave them peace, and through his word ensured that Israel could follow the right path.
In his letter to the Corinthians, St Paul reminds his audience of the intimate relationship between the bread and wine we partake in the Eucharist, and the body and blood of Christ.
We are united through this one bread and form one body of Christians. (Second Reading)
In the Gospel, Jesus explains to the Jews that his body and blood will give them spiritual nourishment. This food is not the same as the food God gave Israel in the desert; what Jesus offers here is a way for us to be living in him and he in us. By sharing his body and blood through the form of bread and wine in the Eucharist, there is an intimate relationship between ourselves and the Lord. This week, let us pray for all those who do not know this close union or who are not able to be part of it. We also remember all deprived of the Eucharist because of the pandemic.
(St Beuno's Outreach)
Trinity Sunday
Mass Readings
Reading 1 – Exodus 34:4B-6, 8-9
Psalm – Daniel 3:52-56
Reading 2 – 2 Cor. 13:11-13
Gospel – John 3:16-18
Fr Douglas'  reflection
One sometimes encounters a sort of patronising notion that Christianity is a matter of wishful thinking: a fairy story that someone made up and that we cling to rather than face the harsh realities of life.
Christians believe in life beyond death. Sometimes at funerals people will say 'O your faith must be such a comfort". Personally, I've never found the idea that I will be held accountable for all of my thoughts, actions and lack of action particularly comforting in the shallow sense that such people usually mean.
Christians somehow cannot face up to the harsher realities of life? At the heart of our faith we find the betrayal, abandonment by his friends, and brutal murder by crucifixion of one who is perfectly innocent. I don't think realities get much harsher than that.
And what are we to make of the Trinity? Christians believe that the identity of the God they worship is that He is one, but, simultaneously, Father, Son and Spirit. What human being would ever make up such a thing? This isn't a projection beyond our human limitations. This is something that, had it not been shown to us in Jesus Christ, we could never have known, nor ever hoped to have invented.
The Trinity is not a comfort, nor the fruit of wishful thinking. It is the hard dogmatic fact of who Jesus, the crucified carpenter, showed us God is.
Believing in the Trinity means to hold that the love which grounds the universe, its laws and our existence within that universe, which chose to show itself to us in Jesus Christ, is simply bigger, richer, deeper and more beautiful than our human minds can measure
Pentecost
Mass Readings
Reading 1 – Acts 2:1-11
Psalm – Psalm 104:1-34
Reading 2 – 1 Cor. 12:3B-7, 12-13
Gospel – John 20:19-23
Fr Douglas reflection
On the Feast of Pentecost our minds turn to the descent of the Holy Spirit on the early Church. In the last half century or so modern theologians have lamented the 'under-developed theology of the Holy Spirit' in the Catholic Church. Often they contrast our tradition in the Latin West, with that of the Eastern Orthodox Church.
I have no wish to comment on Orthodox theology, but I think the time has come for us to have a little more confidence in our own tradition. In the second reading St. Paul tells us, "No one can say, 'Jesus is Lord' unless he is under the influence of the Holy Spirit." The Spirit's action on us points us not towards the Spirit but toward Jesus. And the faith of the Church is "the action of the Spirit is not outside or parallel to the action of Christ." (Dominus Jesus). If the tradition of our theology has a certain reticence in regard to the Holy Spirit, it is because the primary role of the Holy Spirit is to point us at Jesus in whom the Father and Spirit are revealed. The Holy Spirit is the light in which we see Jesus, and the love dwelling in us that  gives us the courage to embrace Jesus.
Critics might say this plays down the 'personal' dimension of the Holy Spirit, but perhaps we need a greater humility when we speak of 'person' or 'personal' in relation to God? As St. Augustine reminds us, we only use the term 'person' "so that we are not reduced to silence when asked, 'Three what?'" (de Trin VII).
We should have confidence in our own tradition. In practice that means if we want to know the Holy Spirit we don't need extraordinary spiritual gifts or private revelations; rather, we need to look to Jesus! We need to look at his life, as handed down to us in the Church's scriptures, and his deeds, as made present for us in the Church's sacraments which both reveal and give the Holy Spirit to us. The life of that community which we call the Church is the Holy Spirit breathing in us.
7th Sunday of Easter
Mass Readings
First Reading
Acts of the Apostles 1:12-14
After Jesus' ascension to heaven, the apostles return to Jerusalem and gather in prayer with Mary, the mother of Jesus.
Responsorial Psalm
Psalm 27:1,4,7-8
The Lord is our salvation.
Second Reading
1 Peter 4:13-16
If you suffer for Christ, you will be blessed.
Gospel Reading
John 17:1-11a
Jesus prays for his disciples.
Feast of Ascension Mass Readings
Reading 1 – Acts 1:1-11
Psalm – Psalm 47:2-9
Reading 2 – Ephesians 1:17-23
Gospel – Matthew 28:16-20
Fr Douglas' Reflection on the Ascension
On Thursday we celebrated the Feast of The Ascension. We have a three yearly cycle of readings, and so from year to year we get a different Evangelist giving their version of this event, with inevitably slightly different emphases. This year it is the turn of Matthew, and the last line of the Gospel is our Lord's promise to the Apostles, and through them to us, "And know that I am with you always; yes to the end of time."
Most obviously this refers to the Lord's power and presence in the sacraments, above all the Eucharist. It is right that we feel the longing to gather once again around the Lord's real presence in the Mass.
Nonetheless, that we cannot at present publicly celebrate Mass does not render the Lord's promise untrue.
Some of us have chosen to give our lives to the Lord in celibate loving, and in that way of life the Lord has ways of making his presence known. But for most of you in your houses and in your families the Lord is present through the Sacrament of Marriage.
For us as Catholics, the love between spouses is not only patterned upon the Lord's love for his bride the Church, in every marriage is the incarnate reality of the Lord's love. Looking at how their parents love one another is how most children will catch a first glimpse of what Jesus is like. As one of the Church's early theologians, Tertullian, wrote in about 200AD:
 How beautiful, then, the marriage of … Christians, [They are] one in hope, one in desire, one in the way of life they follow … Nothing divides them, either in flesh or in spirit. They are, in very truth, two in one flesh …  To such as these God gives His peace. Where there are two together, there also He is     present; and where He is, there evil is not. 
 I should add that in our fractured world there are many ways of faithfully bearing witness to the mystery of the Lord's presence in marriage.
 6th Sunday of Easter
I shall ask the Father, and he will give you another Advocate
to be with you for ever, that Spirit of truth
Mass Readings
Reading 1 – Acts 8:5-8, 14-17
Psalm – Psalm 66:1-20
Reading 2 – 1 Peter 3:15-18
Gospel – John 14:15-21
Dear Parishioners,
It is now eight weeks since we have been able to celebrate Mass together publicly and, rather than write a reflection on this Sunday's Gospel, I thought it might be appropriate to give you an update on what has been going on in the parishes over these last weeks and to share a few thoughts about the way forward.
Even though we cannot celebrate Mass together, largely through the efforts of the SVDP, the homeless continue to be cared for on a Sunday morning at St Peter's. Our indefatigable parish secretaries, Sr Karin and Mary Wastle, continue to keep the housebound in touch through the parish newsletters which are both posted out by 'snail mail' and posted on the internet every week. I have also been able to link a few of the housebound to generous young people in the parish, and I know from reports that that others are helping with the housebound.
During lockdown, I have found myself busy covering the nursing-homes on the Southside of Edinburgh. Given that a number of our still serving priests are over the age of seventy, I've had to take on responsibilities beyond the nursing-homes in our two parishes. The homes and hospitals are very well prepared and the required safety measures are stringently enforced. By the time they have kitted me out I feel like a deep-sea diver! But it is a privilege to witness the inspiring courage of the nurses and staff.
On occasion, I have administered the Last Rite. Invariably, this proves to be a very peace-filled moment and it is quite eerie to me just how keenly Our Lord makes his presence felt at these times.
For the same reason, I have been covering graveside services at Mount Vernon and cremations at Mortonhall. The services are sober and simple, but our beloved dead are laid to rest with dignity and enveloped by the prayers both of those present and those afar.
Neither have things been quiet in the parishes themselves. (Much to my frustration!) People continue to be prepared for marriage by Zoom! Parish meetings continue again by Zoom or by telephone. (Not to mention the St Columba's coffee morning!) And the works at St Columba's and St Peter's are moving ahead.
We are negotiating to get the work on the reredos at St Columba's finalised, and I have been looking into getting the soundproofing in the new confessional improved. Hopefully, once lockdown lifts those works will be able to start. At St Peter's the Property and Finance Councils have made real progress with the asbestos removal and the heating project. The funding has been negotiated and the contracts awarded so that work will start as soon as
reasonably possible.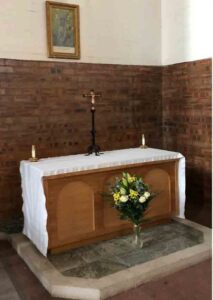 The new Lady Altar at St Peter's is in place (I am especially pleased that we were able to salvage a forgotten altar stone found in St Peter's basement which now forms part of the new altar) and as soon as the image of Our Lady is back from the restorers we will, I hope, have a very fitting shrine to the Lord's mother, who also looks upon us with a mother's heart.
We've also been looking to the future and are getting work done on the beautiful Edwardian Crib Set that is part of St Peter's patrimony. That will be something special to look forward to this Christmas.
The Church bell at St Peter's is rung at 12 noon every day for the Angelus, and the same bell is rung on Thursday evenings at 8pm. There is something quite fitting, I think, in the one bell being rung to honour our courageous doctors and nurses and to announce the Lord's presence: the Lord, after all, healed the sick.
Perhaps most gratifying for me is the knowledge that prayer, though hidden, remains at the heart of our community. Mass is celebrated every day for the intentions published in the newsletter, but I am also frequently reminded of the centrality of what the Second Vatican Council in its typically odd language, refers to as the 'domestic Church' (Lumen Gentium, 11). Our Mother, the Church, means quite simply the family!
On a daily basis, I receive emails and texts from parishioners who tell me about how they are praying as a family. One parishioner told me that last Sunday his infant daughter had insisted that they 'go to mass' in her room this week, and duly the lap-top was moved to her bedroom when they streamed Archbishop Cushley celebrating Mass that Sunday. "On the lips of children and babes, you have found praise!" (psalm 8:2).
Finally, looking to the future! When the lock-down lifts we don't yet know what form that will take. The Bishops of Scotland have a working party looking into the matter, and across the two parishes (at the prompting, I should add, of wiser heads than mine) we have put together a group that includes 3 doctors and others experienced in parish ministry to look at how best we can both come together and stay safe. I don't know what that will look like, but it puts me in mind of one of my favourite poems:
'Silence' by Marianne Moore.
The poet writes:
'The deepest feeling always shows itself in silence, not in silence but restraint'.
Whatever form the lifting of the present lockdown takes, I think that 'deepest feeling', which is our desire to receive and to be the body of Christ in our parishes, will have to express itself in 'not in silence but in restraint.'
With my prayers,
Fr. Kevin
5th Sunday of Easter
Mass Readings
Reading 1 – Acts 6:1-7
Psalm – Psalm 33:1-19
Reading 2 – 1 Peter 2:4-9
Gospel – John 14:1-12
Fr Douglas' reflection
In 47BC, in reporting his victory at the Battle of Zela to the Roman Senate, Julius Caesar set out his 3 "V"s:
Veni, Vidi, Vici; I came, I saw, I conquered.
In the gospel today we get Jesus Christ's 3 "V"s: I am the Way (Via), the Truth (Veritas), and the Life (Vita).
When Christ comes, he comes not to conquer and subdue us by force. He comes that he may open up a way for us:a way of living humanly and humanely with each other, a way that will, in the end, lead us to the Father and our heavenly homeland.
Christ doesn't come to see, to survey with a view to judging or overcoming. He comes, rather, so that we might see; see the truth of who God wants us to be, of how much God loves us (even unto death!), and ultimately that we might see God in the flesh.
Christ certainly will conquer sin and death. He will, if we let him, conquer in us, in our lives, those things that are awry, but he comes not to subjugate as might a Roman general. As Pope Emeritus Benedict said:
"If we let Christ into our lives, we lose nothing, nothing, absolutely nothing of what makes life free, beautiful and great. No! Only in this friendship are the doors of life opened wide. Only in this friendship is the great potential of human existence truly revealed. Only in this friendship do we experience beauty and liberation."
4th Sunday of Easter
Mass Readings
Reading 1 – Acts 2:14A, 36-41
Psalm – Psalm 23:1-6
Reading 2 – 1 Peter 2:20B-25
Gospel – John 10:1-10
Fr Douglas' reflection
The Gospel abounds in irony this week. Our Lord is the 'gate of the sheepfold' and anyone entering through him 'will go freely in and out'. Strange words in a time of lockdown!
Nonetheless, this freedom is linked to our Lord's promise that He has come so we 'may have life and have it to the full.' This surely means something deeper than not having to queue outside the supermarket!
We must not reduces our Lord's role to no more than freeing us from sin; our Lord tells us that He has come to do more than that.
While we might feel the lack of those things that until recently were normal to us: gathering on a Sunday, and receiving the sacraments, that 'felt absence' does not have to be a purely negative thing. It can point us towards towards the fullness of life for which we long and for which God made us.
St. Augustine wrote in his Confessions, 'Fecisti nos ad te, Domine, et inquietum est cor nostrum donec requiescat in te.' It is usually translated 'O Lord, you have made us for yourself and our hearts are restless until they rest in you.' But there are nuances to the Latin that are important. 'ad te' is contrasted with 'in te'. The first means literally 'in motion towards'; the second 'resting in'.
Note also he uses the singular, not the plural, for heart. At the point in the Mass when the priest now says to the people as a whole 'lift up your hearts',
Augustine would have said 'lift up your heart', that is, the one heart in which you are all united. It is a beautiful short-hand for the unity to which the Eucharist calls us, and Augustine uses it also in the Confessions.
We have been made with a dynamism in us that makes us reach out, united in one heart, to the Lord. The 'felt
absence' of not gathering as one on a Sunday, and not being able to receive the Lord in the sacraments is actually a consolation, because it points us to the truth of Augustine's words, the truth of who we are: God has made us unto Himself and our one heart will not find rest outside of God. And therein lies the fullness of life.
3rd Sunday of Easter
Mass Readings
Reading 1 – Acts 2:14, 22-23
Psalm – Psalm 16:1-11
Reading 2 – 1 Peter 1:17-21
Gospel – Luke 24:13-35
Fr Douglas writes:
This Sunday's Gospel (Luke 24: 13-35) tells the story of the disciples encountering the Risen Lord on the Road to Emmaus. For us, as Catholics, it is impossible not to recognise the Mass in this encounter.
The Lord explains "the passages throughout Scripture" that are about himself. Obviously, this is the Liturgy of the Word with its readings from the Old and New Testament which all centre on Christ. Then, as he blesses the bread, the disciples recognise the Lord but "he had vanished from their sight." Clearly, this is the Liturgy of the Eucharist when the Lord continues to disappear from our sight under the appearances of bread and wine. And this reminder of the Lord's presence in the Eucharist should make us feel the lack of being about to attend Mass.
At another level, however, the narrative of the Gospel can be understood as a reflection on how people encounter the Lord in the most unlikely of places. Two disciples who are dejected, and probably frightened, are fleeing from Jerusalem because they have seen their hopes apparently come to nothing. And then, on a country road leading to nowhere special, they encounter the Lord.
Perhaps our circumstances are different but, nonetheless, as St. Maximus the Confessor reminds us "The Word of God, born once in the flesh (such is his kindness and his goodness), wishes always to be born spiritually in those who desire him." Through your patience, your kindness to others, your hope, your joy and the thousand other details of your lives at this time, may the Risen Lord take flesh in your lives today.
Divine Mercy Sunday
19th April
Mass Readings
Reading 1 – Acts 2:42-47
Psalm – Psalm 118:2-24
Reading 2 – 1 Peter 1:3-9
Gospel – John 20:19-31
Fr Douglas writes:
The second reading this morning is from the First letter of St. Peter. St. Peter is
writing from either Antioch or Rome, we don't know the exact date of the letter, to the persecuted Christians in Asia Minor, and he tells them: "even though you may for a short time have to bear being plagued by all sorts of trials … when Jesus Christ is revealed, your faith will have been tested and proved like gold." those words of encouragement are addressed to us also.
Three weeks of social isolation with its probable extension may not feel like "a short time", but nonetheless our faith is being purified as all the usual gamut of support, and perhaps distraction, is taken from us. And if we can enter into this time with our hearts and minds open to the Lord we will emerge with something more precious than gold. That might be a deeper prayer life, a renewed sense of how valuable the sacraments and our church community is -absence makes the heart grow fonder after all! – or it might simply be a deeper appreciation of those with whom we live.
One final point, however, in the Gospel when Thomas sees the Christ, the Lord has passed into a new glorified life, but he still carries with him the wounds of his passion. In the same way too, at some point the lock down will be lifted and we will return to normality, but if we have lived this time wisely and close to the Lord, it should leave us changed, hopefully, purified like gold in a furnace.
Easter  Sunday
12th April
Mass Readings
Reading 1 – Acts 10:34-43
Psalm – Psalm 118:1-23
Reading 2 – 1 Corinthians 5:6-8
Gospel – John 20:1-9
Easter Reflection from Fr Kevin
In the scriptures and the writings of the saints all sorts of metaphors are used to talk about the Resurrection: sometimes it is described in terms of a battle with Christ emerging victorious: sometimes on the model of Exodus a passing from slavery into freedom; sometimes it is simply in terms of descending into death and rising to new life.
But the truth is that no image, metaphor or simile can properly describe the event we call the Resurrection, and we have to lapse into silence before the reality of that singular event. This silence is not the absence of meaning; rather, it is a silence pregnant with a sense our limited words are unable to articulate.
But words are not the only way of approaching the mystery of the  Resurrection. The Resurrection can be embodied in how we live our lives.
Lives filled with hope that is rooted in Christ's 'victory' over death; lives filled with joy at this 'passing from slavery into freedom'; and lives filled ultimately with love because we refuse to 'descend' into selfishness and choose to "rise' to the demands of loving others.