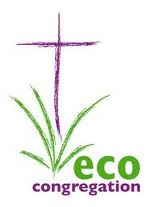 St. Peter's is now registered as an Eco-Congregation.  We achieved our first Eco-Congregation Award in May 2014.
What does this mean?
We are committed to considering and implementing initiatives to show that we care for the world that God has created. Central to this is reviewing how our way of living, as a parish and as individuals, may be affecting climate change and the use of the world's resources. In caring for our environment and making choices about how we live, we will help the world's poorest people most at risk of unpredictable changes in the weather.
To get our first award we could show that we already support SCIAF, Fairtrade and Christian Aid. We are thoughtful about recycling household items through Fresh Start. We think about the wonder of God's creation in bidding prayers, the Homily and at our Harvest Festival. Special projects have included a Photography Exhibition and extensive work outside in the Church gardens.
Carbon Footprint
As part of our commitment to being an Eco-Congregation. we undertake a annual review of the energy used in the Church and in the Parish Room.  Using a suggested multiple, we can translate this into a Carbon Footprint for St. Peter's.  It has been interesting to review this year-on-year. You can see the results here: CARBON FOOTPRINT 2016 (PDF)
Love God, Love God's World
Love God, Love God's World event in Edinburgh.  Why Christians Care for Creation. Edinburgh September 2015.  Speakers from four Christian denominations speak out. Each talk lasts no more than 10 minutes.  Philippa Bonella from SCIAF is the third speaker.
Please see: http://www.ecocongregationscotland.org/news/video-and-notes-from-edinburgh-event-now-available/
Praise be to You: Care of our Common Home
Our Climate: an animation from Cafod
Pope Francis has written a letter addressed to every person on this planet, asking us all to protect our common home, the earth. In his encyclical, Laudato Si', Pope Francis speaks openly about the devastating effects of climate change on people and the planet. He says that climate change is real, urgent and it must be tackled, asking us to remember that the climate is "a common good, belonging to all and meant for all".
Second Successful Award as an Eco-Congregation
Second-award-application (PDF)
We applied for a Second Award as an Eco-Congregation in October. On Monday 20 February the Assessors from Eco-Congregation Scotland came to visit St. Peter's to hear from us directly about our work. 12 parishioners were there at the meeting to advocate for St. Peter's – it really impressed the assessors to see how many of us were there! They did a tour of the Church as well.
And we were successful!  We await official paperwork, but we were told we have our Second Award! The photo below is just ONE example of FOUR ways that we  demonstrate that we are an Eco-Congregation – jars DONATED by parishioners are RECYCLED, filled with MARMALADE HOMEMADE BY Annie Royan and then sold to raise funds for SCIAF.

Could you volunteer for the Eco-Congregation team?
Yes, please do! Parishioners of all ages would be welcome at our three monthly meetings held in the Parish Room.
St Peter's School Garden

It is fantastic that the children are now so active in the school garden – I have helped with three class visits to the garden to accompany small groups as they harvest what they have grown. I am proof that you do not need any gardening expertise to volunteer! The Eco Group would like to invite parishioners to become volunteers as well: you only need to help once, and you will want to do it again! Liz Brown brownedin@btinternet.com
Contact:
Liz Brown Tel 447 7286
email brownedin@btinternet.com
www.ecocongregationscotland.org