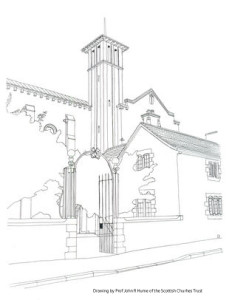 The Property Committee  oversees the fabric of all the church buildings, all of which are A-listed.  Major works projects are put out to tender, while some parishioners volunteer to do smaller jobs requiring only payment for materials.
The Property Committee is responsible for the upkeep of the property; day-to-day maintenance and periodic inspection and testing of the various installed systems.  The Committee members and their assigned responsibilities are as follows:
         Ex officio                                                                Fr Kevin Douglas
         Administration                                                      John Wastle
         Church and presbytery heating systems         John Smith and Angus MacKellaig
         Fire alarms & emergency lighting systems     Bill Douglas and Archie Cairns
         Miscellaneous minor works                               Bruce Royan
Contact: John Wastle     Tel: 0131 447 3442         Email: wastles@btinternet.com
Reports
St Peter's – Schedule of Works 2019 (PDF)
St Peter's  Report of Works Jan – June 2019 (PDF)
St Peter's  Report of Works Completed 2018 (PDF)
Gift Aid Scheme
The Gift Aid Scheme  is an important source of revenue for the Parish. If you pay Income Tax and are willing to use envelopes or give by standing order, we can claim back tax on your donations.
Contact: Andrew Thackrey 447 3232