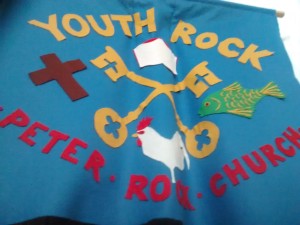 Youth Rock is for young parishioners aged S1-S6.  It is a place for young people to socialise, discuss the big issues and play music.  We called our group Youth Rock because Peter means rock, and young people are the rock on which the church continues to be built.  We also enjoy music!
Meetings take place on Sunday evenings during school term time, from 6.30 – 8 p.m. in the Parish Room.  Meeting dates and topics are displayed on a poster at the back of the church and in the Parish Room.  We welcome new members.
Youth Rock returns on Sunday 29th October with our annual Halloween Party in the Parish Room
6.30-8pm. All S1-S6 are invited to come along in fancy dress (but no pressure if it's not your
thing!) for a fun-filled spooky night.
Please bring along a small treat to share and £1 donation. It would also help with planning if you could email youthrockstpeters@gmail.com to confirm attendance.
Future meeting dates:
19th November
18th December
Contact: youthrockstpeters@gmail.com
See also  Youth news page