Newsletter
Subscribe to Newsletter
Subscribe to the weekly newsletter to your in-box by going to the side navigation panel of this website
(being aware of Archdiocese of Edinburgh & St. Andrews Privacy & Data Protection Policies.)
Parish Diary
Parish Diary 2019 (PDF)
21st Sunday of Ordinary Time
25th August
Saturday Sacrament of Reconciliation 11.15- 11.45 am 12 NOON MASS 
SUNDAY Mass 11.30am Children's Liturgy  during Mass
Joint Parish Picnic after Mass
Monday 9.30 am Adoration 10 am  Mass
7.30pm NO RCIA until after the summer
Tuesday  9am  Service of the Word & Holy Communion

7pm SVDP Meeting in Parish Room
Wednesday  7pm Adoration 7.30pm 
Thursday  9am  Service of the Word & Holy Communion 
Holy Hour 7.45pm Prayer Group all welcome parish room
Friday 9.30 am Adoration 10 am  Mass 
Saturday Sacrament of Reconciliation 11.15- 11.45 am 12 NOON MASS 
Visit : Mass Times St Columba's
2019
Parish Diary 2019 (PDF)
Saturday  31 AUGUST – National Youth Pilgrimage
The National Youth Pilgrimage to St Andrews
Will take place this year on 31st August for all those     between 16 and 30 years of age. To book a place, please contact Youth Initiative at YI@staned.org.uk
Protecting the Planet – what's the Catholic Response?
Day of  Reflection on Pope Francis' Encyclical on the Environment Laudato Si'
with Dr Sara Parvis, School of Divinity, Edin Univ.
Saturday 31 August 11am – 3.30pm at Gillis Centre
Free event: please register at    Eventbritelaudato-si-gillis.eventbrite.co.uk
September
SUNDAY 1 SEPTEMBER – 22nd Sunday of the year
World Day of Prayer for the Care of Creation
The funeral arrangements for the late Stephen Canon Judge
Monday 2 September at 7pm – Reception of Remains at St John the Baptist's Church,
37 St Ninian's Road, Corstorphine, EH12 8AL
Tuesday 3rd September
You are warmly invited to celebrate the start of the new academic year with a Vespers of the Holy Spirit, Tuesday 3rd September 6pm St. Albert's Chaplaincy.
The Vespers will offer thanksgiving for our University Communities in Edinburgh and seek guidance and wisdom of the Holy Spirit for the coming academic year.
Members of staff of all Universities and Higher Education institutions in Edinburgh are especially welcome.
Rev. Dr. Harriet Harries (Chaplain of University of Edinburgh) will preach at the service.
The Vespers will followed by a social gathering of St. Albert's Staff Group which is a gathering of members of staff from a range of Universities across Edinburgh who meet regularly to build relationships of friendship and support for each other in our faith and work. Please do join us to celebrate and pray together for the new academic year. The Vespers will be preceded by Mass in the Chapel at 5.15pm for those interested.
Tuesday 3 September at 12 noon – Concelebrated Requiem Mass at St John's Canon Judge's remains will be interred at Mount Vernon Cemetery thereafter.
September 4th
SPRED: Commissioning Mass at St Kentigern's Church, Edinburgh, at 7pm on September 4th.
Saturday 7 September – 1pm Baptism – St Peter's
Breaking the Silence; Awareness Raising Morning
Join us and our expert speakers for a morning of information, discussion and sharing of ideas while we explore the issue of domestic abuse within our communities.
Come and find out more about how we might respond together:
Saturday 7th September 9.30 – 12.30
Braidburn Terrace EH10 6ES
This event is free to attend and all are welcome. If you would like any further information, please get in touch by contacting: greenbankchurch@btconnect.com Refreshments will be provided.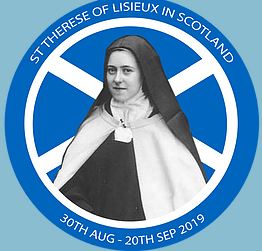 Saturday 7th September – Monday 9th September 
The relics of St Thérèse have been on an international pilgrimage since 1994.
This will be their first visit to Scotland. Visit link below of itininary:
www.littleflowerinscotland.co.uk/archdiocese-st-andrews-edinburgh
SUNDAY  8 SEPTEMBER – 23nd Sunday of the year
Sunday 8th September
Ven. Margaret Sinclair: Please highlight to parishioners the annual pilgrimage to pray for the Beatification of the Venerable Margaret Sinclair, taking place on Sunday 8th September at
St Patrick's Church,
Cowgate,
Edinburgh.
2pm Holy Hour; 3pm
Presentation on the Ven. Margaret Sinclair; 4.30pm
Holy Mass; 5.30pm.
Volunteer Sunday 8 September 2019
As you may have seen from our Parish Annual Report St Peter's is very well served by its many volunteers who give their time and expertise, contributing to the great variety of activities which take place within the parish throughout the year. We are planning to showcase the kinds of activities and opportunities for volunteering which are open to all parishioners, on Volunteer Sunday, after 11.30 Mass on 8 September. So please stop to chat with the volunteers who will be in the courtyard as you leave and think about how you might become more closely involved in the life of the parish in a new way by joining them. There is something for everyone!
Journeying Towards Caring for our Common Home
Join  the  the Lauriston Jesuit Centre this September as we 'Journey Towards Caring for Our Common Home' with a series of talks exploring Pope Francis' document Laudato Si in light of the forthcoming Amazon Synod.

Julia McDonald
(St Bede's Pastoral Centre)
'Setting the Existential Scene' 

Thursday 5th September – 7.30pm

Lauriston Jesuit Centre

Theo Hawksley CJ
(London Jesuit Centre)
'The Forthcoming Amazon Synod's Challenges'
Thursday 12th September, 7.30pm
Lauriston Jesuit Centre

Carmody Gray
(Assistant Professor of Catholic Theology – Durham University)
'Laudato Si – Thought into Action' 
Thursday 19th September, 7.30pm
Lauriston Jesuit Centre

Paul Martin SJ
(Former Regional Superior for the Jesuits in Guyana)
'The Synod on the Amazon:
The Periphery in Dialogue with the Centre'
Thursday 26th September, 7.30pm
Lauriston Jesuit Centre
Day for Music
This will be at the Gillis Centre on Saturday 14th September. It's primarily for those who play/sing at Mass, but everyone with an interest in church music is welcome.
It will be hosted by Michael Ferguson, Director of Music at St Mary's Cathedral, and James Greechan, a talented young organist who leads the music at St Patrick's in Kilsyth. Posters have been sent to your parish (attached for reference only).
There's also a video on the Archdiocesan Facebook previewing the day. It's a free event, parishioners just need to register on the Eventbrite website (search 'living church music') or call 0131 623 8900 for those without internet access.
SUNDAY 15 SEPTEMBER – 24th Sunday of the year
Pause for Hope: An Ecumenical service for all affected by cancer takes place at Sacred Heart Church, Lauriston Street, Edinburgh, on Sunday 15th September at 3pm. It is organised by Pause for Hope, a Christian cancer charity. All welcome. Pause for Hope would like someone who has been affected by cancer to give a brief (five minute) testimonial at the service. If you know a parishioner who may wish to take part please contact pastoral@lauriston.org.uk.
Monday 16 September – School holiday
Friday 20 September – Wedding
Day for Altar Servers
Saturday 21st September
11am until 3pm.
This takes place at the Gillis Centre on Saturday 21st September, from 11am until 3pm.
There will be activities, testimonies and games. All altar servers are invited. The day will conclude with Mass, during which I will present medals to those entering into the Guild of St Cuthbert.
An Eventbrite registration page will be live soon.  All parish groups are responsible for distributing and collecting parental consent forms. Servers should bring a packed lunch, comfortable clothes and the robes they normally wear for serving at Mass. Please encourage your altar servers to take part.
SUNDAY 22 SEPTEMBER – 25th Sunday of the year
Sunday Masses move to St Columba's because of installation of the new heating system at St Peter's from 23rd Sept
The shelter in Gorgie Road, Edinburgh, is looking for a team of 6-8 volunteers who can provide and prepare a hot two-course meal for homeless people, from 23rd September. This can be a one-off or for several nights. Any parish groups who can help can contact Ruth Longmuir on 0131 561 8930 or 07973 280 481.
SUNDAY 29 SEPTEMBER – 26th Sunday of the year World Day of Migrants & Refugees
The World Day of Migrants and Refugees
29th

 

September.
October
SUNDAY 6 OCTOBER – 27th Sunday of the year
Friday 11 October – School mid term break
SUNDAY 13 OCTOBER – 28th Sunday of the year
SUNDAY 20 OCTOBER – 29th Sunday of the year
Tuesday 22 October – School back 
SUNDAY 27 OCTOBER – 30th Sunday of the year
Clocks go back one hour – 2-4pm  Baptismal Preparation Course in Parish Room
Fund-raising Dinner Dance …'Friends of Missio Ball'
Saturday 16th November at the Hilton hotel Bellshill all seated for 7:30pm. Tickets are £40 per person with tables of ten also available. This includes a gift upon arrival, a 3 course meal and live band. There are also some fantastic raffle prizes and an auction on the night. All proceeds will go towards schools projects in Uganda and Sierra
Leone.  For tickets contact martin@missioscotland.com