Newsletter

Subscribe to Newsletter
Parish Diary
Parish Diary 2020 (PDF)
Pentecost
Public Masses are cancelled 
Confessions individually by appointment (i.e call or email Fr Douglas.) 
Day for Life Today Pentecost Sunday UK Rosary Relay Rally across Scotland, Wales, England.
The Scottish Bishops have given their blessing for this Pentecost Rosary relay Rally.
Pope Francis is encouraging Catholics to pray the Rosary in their family homes during the month of May, especially when the Pandemic is making us aware of the value of our families and making it possible for us to pray
together in lockdown at home.
Our Archdiocese has been assigned 1-2pm, please consider saying the Rosary during that hour.
https://www.walsingham.org.uk/2020/05/20/pentecostsunday-national-rosary-rally/Special Collection: 
The Day for Life special collection  31st May. 
The theme this year is "Choose Life".  During the coronavirus crisis calls from mothers-to-be are still being received so your donations will be well used by the Archdiocesan Pro-Life Office to help local mothers and children with their pregnancies.
You can donate online:
https://donor.secure-operations.com/detailed/donatecharty_id=1086319&type=2&hidden_amount=&amount=&reference=LIFE
by  Zoom
Tuesday 2 June at 7.30pm
The Pope in Lockdown:
How Francis is guiding humanity through the corona wilderness
author Austin IvereighA- To attend our talks simply create a Zoom account and log in with the following
https://us02web.zoom.us/j/2365092814 or enter Meeting ID 236 509 2814 –
For more information contact Andrew Cassidy at
acassidyshi@jesuit.org.uk
A series of talks from the Lauriston Centre Jesuits on line.
Sign up for their newsletter for more information.
Monday Vocations Mass Monthly Mass
for vocations live on Facebook from Dalkeith parish,
with Fr Andrew Garden.
Monday, 1st June, 6.30pm
SPUC Digital Conference 5 / 6 June
Always a good event, SPUC conference is online this year,
and free. No travelling and you can make a cup of tea at the same time. Worth a look
https://www.crowdcast.io/e/spuc2020/register?session=1
Mount Vernon
COVID–19 CEMETERY RESTRICTIONS
Friday 4pm-8pm
Saturday 8am-8pm
Sunday 8am-8pm
Mass  Intentions
Fr Kevin will be offering daily Mass privately and all the Mass Intentions already received will be fulfilled.
You may still hand in intentions and Masses will be offered on or as near as possible to the date requested.  Just put them through the
presbytery door and they will be printed as usual in the newsletter.
Remember to pray – for all our sick, for those affected by coronavirus, for those who are alone and for our priests are who unable to minister to their parishioners at this time but who are praying for all.
New Altar at our Lady's Side Altar
(Painting away for cleaning at present)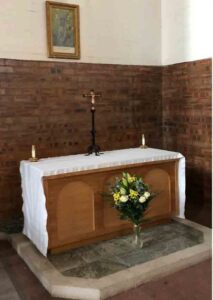 SUNDAY OFFERINGS 
As you can see the income from Sunday Collections has indeed dropped considerably.  In spite of this we still have the upkeep of the church, the presbytery and our parish priest. Therefore you are encouraged to seriously consider giving your offering by Standing Order.
The parish bank details are:
A/C Name:  St  Peter's Parish
Sort Code   83-06-08  A/C No             10402428
You can arrange a Standing Order online or in your branch.
You can use a cheque (St Peter's Parish).
Alternatively post your weekly envelope through presbytery door or keep them till Mass resumes.
Please contact Anne-Marie Douglas (445 4337) if you require advice or help.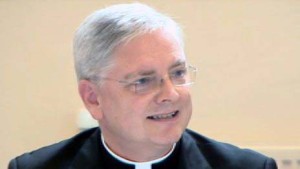 2020
MOST  OF THE BELOW MAY BE SUBJECT TO CANCELLATION
Monday 8 June – PPC Meeting
Pilgrimage to Knock Shrine
14th June 2020
£699.00 per person sharing.  Price includes flight with 10kg hand
luggage, all transfers, 5 nights in Knock House Hotel with breakfast and dinner.  All excursions included.  Lunches on days out. Single supplement £100.
Contact Patricia on 01268 762 278 or 07740 175557 or email knockpilgrimages@gmail.com.  Knock Pilgrimages ATOL T7613.
Saturday 13 June – First Communion – P4
Saturday 8 August Wedding in St Peter's
Saturday 3 October  Wedding in St Peter's
Saturday 17 October – Wedding in St Peter's